View our Advertisers
on an Overhead Map!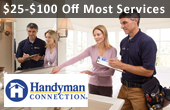 Welcome to Ladies Workout Express
Ladies Workout Express offers a complete range of fitness and exercise equipment designed exclusively for women, 17 machines in all. The easy-to-use machines provide both strength training and aerobic exercise because they are a dual-resistance hydraulic system with no pins. We offer fitness programs and classes (Zumba Gold) specifically designed to help seniors improve cardiovascular health, flexibility, strength, stamina, balance and coordination. There is an infra-red sauna available. Certified Personal Trainer are available to instruct you on proper form, suggest an appropriate workout or provide motivation.
Free Printable Coupon Offer
Try CyberCoupons for FREE at no charge! This offer is open to everyone, both members and non-members alike (members simply click below to load this offer onto your card).

This is a one time offer that is only valid at the locations listed on this page. Click Here to see over 100 More Free Offers!

Free 60 minute massage ($40 value) with new membership
Free Printable Coupon

Receive a free 60 minute massage ($40 Value) with your new membership.

One time offer. Not valid with any other offer.
Click Here to get Your Free Printable Coupon!

Share this Free Offer with your friends!


Address
Tacoma, WA
4939 N. Pearl
Tacoma, WA 98407
253-752-8599

Click the Red Icon below to get directions


0 Reviews
leave your own review!