View our Advertisers
on an Overhead Map!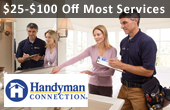 Welcome to Salon Ra Lada
Salon Ra Lada offers haircuts for men, women and children. They also do colors, foils, perms and waxing. The salon is very clean and upscale. There are 3 stylists with a total of 50 years experience.
Free Printable Coupon Offer
Try CyberCoupons for FREE at no charge! This offer is open to everyone, both members and non-members alike (members simply click below to load this offer onto your card).

This is a one time offer that is only valid at the locations listed on this page. Click Here to see over 100 More Free Offers!

Hours
Tues - Sat
10am - 7pm

Address
Auburn, WA
210 1st St. NE
Auburn, WA 98002
206-619-0939

Click the Red Icon below to get directions


0 Reviews
leave your own review!